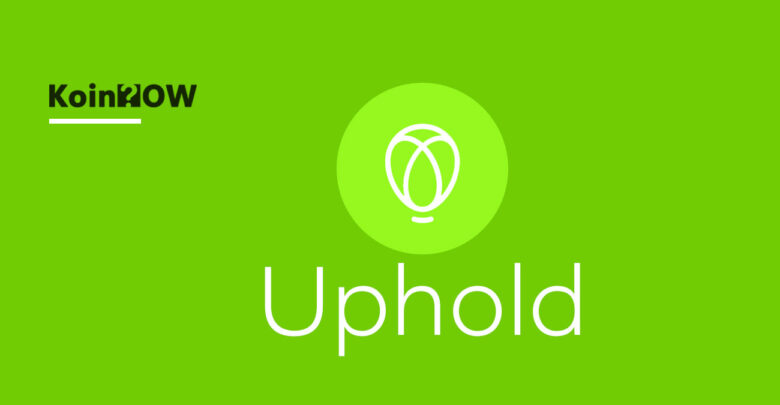 We are here to give you an extensive uphold review today. Choosing the best exchange is quite exhausting. We will try to give you a full rundown on uphold review so that you can find yourself whether the exchange is trustworthy or not. This article will highlight the important factors that you can take into account while considering this exchange. So, let's begin!
What is Uphold
Uphold features
Supported currencies
Uphold supported countries
Payment methods
Uphold fees
Uphold Security
Uphold Pros and cons
Uphold user reviews
Customer Support
Conclusion
FAQs
Launched since 2015, uphold has established itself an exchange where currencies are exchanged, stored, or can be used for any transactions by crypto traders around the world for a small fee.
The interface of the website is very user-friendly and easy to use. The company is based in England with a registered name as uphold Europe ltd.
The exchange is licensed from CSSF and FinCEN in Europe and the US respectively, making the exchange a perfect choice who loves to trade on regulated websites.
Uphold Features
Uphold is a registered regulatory body for the EU and the US. By working with the regulators, the exchange ensures that the people who use their services would meet their standards to ensure secure transactions.
The platforms offer its users top-notch data encryption to protect user's financial and personal information. The exchange allows its users to exchange other fiat currencies which makes them a batter crypto exchange platform compared to other platforms.
Supported Currencies
Uphold provides a wide range of currency options to its users. The exchange currently offers 23 fiat currencies i.e. AED, MXN, NOK JPY, USD, GBP, and many more on the counting.
The platform also provides its users' leverage to trade in 9 different cryptocurrencies ranging from BTC, CRP, ETH, BCH, DASH, BTG, NANO, LTC, and BAT.
Uphold supported countries
Every exchange has its own trading limits on how much area they are spread on and providing their services. The exchange is fully committed to the laws of every nation in which they operate.
YES, they are providing their services to every nation except for a few in which they are prohibited to offer their services due to the US laws. Here are non-supported geographies in which residents are not allowed to trade in uphold
Cuba
Libya
Somalia
Syria
Sudan
Iran
Central African Republic
North Korea
Uphold Payment Method
Uphold only offers debit and credit cards for account funding. Upholds requires only VISA and MASTERCARD for the transactions. You have to verify your account to add cards and make transactions.
Otherwise, you will receive an error that the transaction is failed. There is an alternative way to fund your account through direct bank transfer.
Although this service is only available in few countries including Austria, Belgium, Bulgaria, Greece, Hungary, Latvia, Lithuania, Lithuania, the Czech Republic, Lithuania, Denmark, Estonia, Finland, France, Poland, Portugal, Slovakia, Romania, San Marino, Slovenia, Slovenia, Spain, Sweden, United States, and Sweden.
Uphold Fees
The signup on the website is free. You can fund your account with zero commission fees by direct bank transfer or using another uphold account.
Although they charge a 3.99% fee when you make a transaction through debit and credit cards. Member can benefit from the fee as uphold offers a 0% fee to all member to member transactions regardless of currency, costs, or limits.
Although there are some geographies where uphold deduct fee when you make bank wire transactions. Although there are some hidden charges that should be burdened on the shoulders of the user.
Uphold Security
Two-factor authentication (2FAC) offers you an extra degree of security if your username and password are hacked or breached. 2FAC is automatically enabled on all Uphold profiles.
So, uphold highly advised not to turn off the setting. It simply means that whenever the user wants to login on the website the 2FAC process automatically sends a code to the user's mobile phone which you need to enter on the website to access your account.
To protect users from cyberattacks uphold provides its users with encryption of private keys. There is also a feature called multi-signature capability which requires the signing of multiple signatures on every transaction performed.
Uphold Pros and Cons
Like other crypto exchanges, uphold also have some advantages and disadvantages that you should read before opting for this exchange.
Uphold Review Pros
The exchange offers a variety of options including multiple cryptocurrencies, precious metals, and fiat currencies.
The account is easy to set up and the interface is very user-friendly
The platform offers two-factor authentication to its users to get rid of password breaching and hacking
The payment methods are very easy to use. You can easily send or receive funds from and whenever you want.
The platform is also available on Android and IOS. So, you can easily trade-in with your mobile phones.
Uphold Review Cons
Like other wallets, uphold doesn't allow you to trade anonymously. You have to sign up and get verified to start using their services.
Some features are not available in some of the geographical locations.
There is a conversation fee that is charged when you buy or convert between two currencies.
Unlike other wallets, uphold offer limited number of cryptocurrencies
There is a lack of transparency and also some hidden charges which are non-negotiable.
Uphold User reviews
The user reviews are mix and match. To praising how much convenient and user-friendly the platform is to how much lack of transparency they are showing.
Most of the users face a hefty amount of fees that they are being charged in a transaction. Like we previously discussed, there are some hidden charges that the company bothers to put the burden on the shoulders of the user.
Some of the users also appreciated that they are not allowing anyone to do trading anonymously and that users had to verify their IDs to make the transaction. While on the other hand users also faced difficulty to verify their profiles after trying multiple times and still all efforts in vain.
Customer Service
Customer support plays a very crucial role in making the business run smoothly and effectively. It is the only way through which companies can improvise their features and boost their sales.
Frankly, their customer support service is not the best experience at all. Unfortunately, uphold excels in this area. They use email and ticketing for customer support.
For certain situations, your question and query can be addressed in moments. But in other circumstances, it takes days and weeks to make your queries and questions get answered. For most of the part, the queries never get answered.
Uphold Review Conclusion
Cryptos are complex, aggressive, and highly risky at the same time. All the trading platforms carry risks. No company indeed provides perfect features and services to its customers fully.
You have to perfectly min out the information base on the facts, their feature, merits, and demerits. The Crypto market is evolved in the last decade. There are enough exchanges in the markets that are doing great in terms of user experience and providing maximum features to its users.
When it comes to user satisfaction, uphold has lost its place. There are many glitches and surely need improvisations that need to be effective. The user tools and functionality are what they are lack. Also, their customer support is not worth it.
In the meantime, when it comes to investment, please take your time, do the work, search for different options, and make a list of the tools that you need to boost your profitability and productivity without any risk. We are sure this would be worth it in the end!
We would love to hear about in the comment section below whether you have good or bad experience with this exchange or any other exchange. Let us know!
Uphold Review Frequently Asked Question (FAQs)
Is uphold a good wallet?
For some reason yes, it's a good wallet like forgiving instant local and global transactions and security protocols to its users. But there is some feature which needs to be improvised.
Is uphold better than coinbase?
Coinbase process is very seamless compared to uphold. It is ranked 1st in crypto exchange while in uphold the transaction process is very efficient and speedy. It takes less than 10 minutes to verify the account and make a transaction. So, Enough to make a decision!
Is uphold a crypto wallet?
Uphold is a multi-currency crypto wallet allow its users to make the transaction in any form of money instantly in any part of the world except for a few.
Is uphold reliable?
Uphold has a lack of transparency. While the app has a good rating on app stores of both android and IOS. On the other hand, the platform is a regulated exchange and they are totally safe.
How do I withdraw money from uphold?
The withdrawal process is very smooth. Just press the "withdraw" from the menu and select the appropriate payment method. Last but not the least, enter your amount and verification code and then confirm the withdrawal.