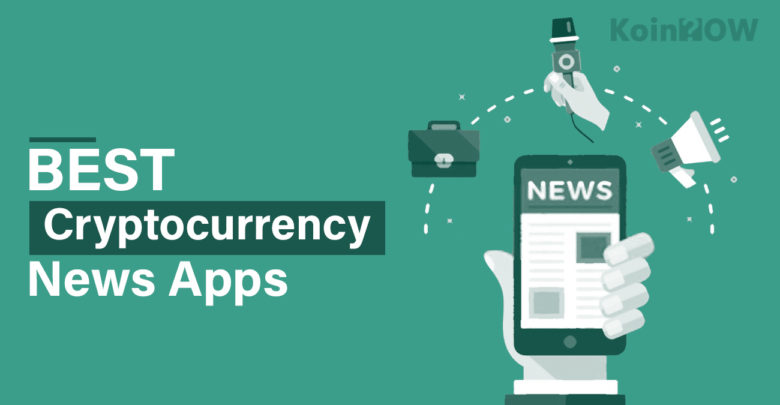 When it comes to the cryptocurrency market. Everybody wants to know about things and stuffs. For crypto enthusiasts, the best cryptocurrency news app is an asset to get real-time updates.
In this fast-moving world sometimes, it can get difficult to keep update or connect with all news that's moving around us. That's why as an investor we picked the best cryptocurrency news application through which you can get the news immediately by just clicking on the news apps. If you desire to have a daily or hourly update at your fingertips just use your mobile phone to catch it.
There are hundreds of smartphone application available for both IOS and Android Operating System. It is very important to be curious all the time to know about things. But here the question arises how do you achieve this? With the help of some reliable app that can be altered as per the need of cryptocurrency business or venture.
By using best cryptocurrency news app you can update yourself and be aware of the crypto market news and trends
Following is a list of top 13 Best Cryptocurrency News Apps in 2021 that you should start using.

Coin Stats
Crypto Crunch
Coin Market App
Coin Live
BlockFolio
Crypto News
Bitcoin News
Investing.Com
Bit Screener
CryptoCoin News
Crypto News Scoop
Coin Market
Crypto Viewer
Let's discuss these crypto and bitcoin news apps one by one
1. Coin Stats
Coin stats consider as one of the leading and best cryptocurrency news app which includes portfolio management, tracking and allow you to auto-connect and keep an eye on your exchange accounts and wallets in one platform.
This is the major reason CoinStats become one of the favorite cryptocurrency news app amongst the crypto enthusiasts, traders, and investors.
The intuitive system and its clear user interface help you to identify and navigate the crucial stats of the market place, provides you the technical analysis with the help of useful tools and features for making the best market studies and lethal investment moves for the financial success.
2. Crypto Crunch
It is difficult to discover the best cryptocurrency news app which can facilitate you to get the right news from the right source so, the Crypto crunch gives you credible information which usually comes from an authentic resource.
Through Crypto Crunch, you can not only get the breaking stories but the app will provide you the information regarding the most popular digital currencies.
It might derive from Twitter, Telegram, Discord, Reddit and any other famous social media platforms. By using Crypto Crunch, you can get insightful tips, share knowledge and experts opinions in the industry.
Moreover, you can easily get the latest cryptocurrency news along with the timely tracking of all the cryptocurrency prices. The app is available for both android and IOS users with the high ratings on google play store.
3. Coin Market App
If we talk about smartphone app for crypto investors and trades. The very first name that's come in my mind is CoinMarketApp is one of the best cryptocurrency news app for crypto passionate because of easy and fast access to thousands of cryptocurrencies.
Its unique features such as relatable cryptocurrency news, personalized portfolio, exchange information and much more. Approximately with 1M of downloads app is becoming more popular day by day.
Education section through which users can educate themselves more about cryptocurrency and blockchain technology.
4. Coin Live
Coin Live is very simple and easy to use basically it is available for both android and IOS users. Its user-friendly interface makes coin live unique among all the available apps. By using this app, you can easily keep eye on real time coin prices, and get stay updated with the latest news.
The news button in the app showcase the latest events from the best cryptocurrencies news sources around the globe. If we talk about the portfolio section it is quite easy and simple to use in the market.
It requires just enter the name of your coin and quantity you hold after doing that the coin live does the magic. It tells you how much you are worth at every second and updating your prices to market prices ultimately secures your investment.
5. BlockFolio
Blockfolio supports hundreds of cryptocurrencies such as Bitcoin, Ethereum, Ethereum Classic, Monero, Litecoin Ripple, Dogecoin, Waves, Stellar and others.
It contains magnificent tools to give data and information on Bitcoin and other Altcoins as well. The interface of the application earns true respect for giving this an extremely great experience. One of the most favorable features of the Blockfolio app has the ability to set price alerts.
It has a wide range of cryptocurrencies through which you can compare each other.
6. Crypto News
The name of the app itself indicates that it provides their users high-quality news and information in the domain of cryptocurrency and make sure their user gets up to microdata from the reliable and credible news sources.
Its friendly interface is one of the reasons for becoming popular amongst investors and traders because crypto enthusiasts can easily explore this app and get the right information timely.
Crypto News gives detailed information on upcoming ICOs (initial coin offering), live updates from high-profile altcoin analysts from their Twitter accounts.
7. Bitcoin News
Bitcoin crypto news offers various features that give access to its users towards news articles, enhance their interest in crypto and investments.
It simply means users will get the finest cryptocurrencies information in the palm of their hands. BTC News app is a great and wonderful source for getting all the most important data and news it is the best platform if you desire to want all crypto information and news in one place.
It's one of the features lets you know and track some fiat currencies as well. Such as GBP, US Dollars, and the Euro. The app is available for both IOS and android users.
8. Investing.Com
Users of this app can easily get the detailed reports and summary as well of the money you have earned or unfortunately lost during the trade at the end of the day.
The app is completely free for use. It is a credible source of collecting news, information and data on Bitcoin, Ethereum, Litecoin, and several other cryptocurrencies.
Moreover, by using this application you can check detailed charts and graphs of price fluctuation of cryptocurrencies. Giving you the idea of how these currencies have performed in just a few years. Through this app investor and traders can get benefits and ultimately gets the increase in their portfolio.
9. Bit Screener
BitScreener is one of the best options for the crypto passionate, traders and investors to gain the exposure and insights of the best cryptocurrencies by just one click.
The app has a unique feature that has the ability to screen search cryptocurrencies. Users can easily discover tokens and search coins based on market cap, price, age, price, subscribers, etc.
If we talk about the user interface of BitScreener it is very easy and simple to use especially its dashboard which has the eye-catching theme.
10. CryptoCoin News
CryptoCoin News is an app that has various features. You can get the graphs and charts of different cryptocurrencies and their past performance and yes ICOs details are also available on this Platform.
CryptoCoin News app digs out the latest updates by using its credible sources like twitter and other social media platforms for their users. The interface of the app is quite simple and very easy to use for traders and investors for newbie as well.
11. Crypto News Scoop
Crypto News Scoop is one of the best cryptocurrency news app available for both IOS and android users. By using this app, you will get the latest news and quality information on a daily basis.
If you are thinking to invest in a cryptocurrency, or you need information about an ICO so you are on the right place. Crypto News Scoop helps you to be aware of market trends, gives you signals in terms of news. Its user interface is friendlier as compare to other news apps.
If we talk about features of Crypto News Scoop it includes ICOs tracker, coin signals, trading signals, graphs, charts, and news stories.
12. Coin Market
Coin Market Supports thousands of cryptocurrencies in your smartphones along with real-time information. it alerts you to be aware when any one of cryptocurrency reaches the desired value.
The app has a unique feature which gives you charts of last days, last week, last month and even last year. More than 30 local currencies such as GBP, CNY, USD.EUR, JPY, MXN and much more. The interface of the app is not very complex things are very simple and available on google play store for better results.
13. Crypto Viewer
Crypto Viewer supports more the 2000 coins in one platform. Its unique feature allows you to keep records and track the value of all your digital currencies.
The user interface of the app is very simple and easy to use. App is available on google play store along with good reviews from current users with high ratings.
 Conclusion
There are hundreds of crypto news app available but we bring the best cryptocurrencies news app for you. On the other end, every app has its own features and uniqueness.
We cannot say the difference between good or bad apps because everyone has their own values and impact. The major benefits through using such news app like they can track, protect, see prices, charts and follow events to get the better results and ultimately gets the reward. Lastly, I recommend you all to do your own research and studies before making any decision