Exchange Review
Bittrex Review – All That You Whant To Know About This Crypto Exchange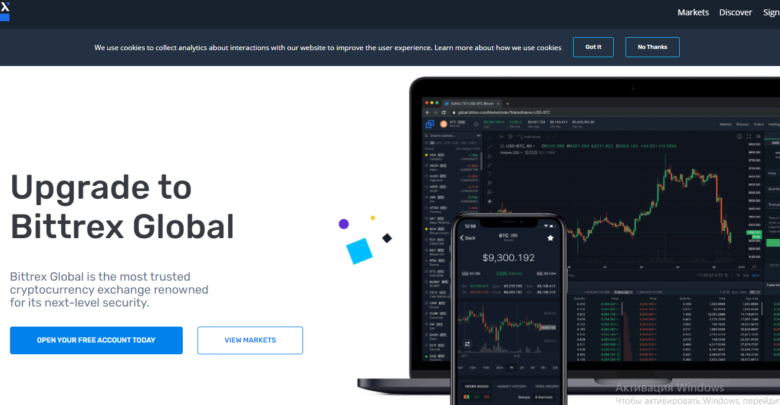 At first, Bittrex exchange functioned just as an exchanger, but today it is one of the largest exchanges where almost all known cryptocurrencies are available. In our review, you will learn the main features and processes at Bittrex.
What Is Bittrex And How It Was Started
Bittrex is an American cryptocurrency exchange. It was founded by Bill Shihara, Richie Lai & Rami Kawachand in 2014 and has been operating since 2015. Now it is based in Seattle, Washington, United States. It provides the ability to work with a huge number of trading pairs and provides reliable storage of users' assets, because almost all funds are in cold wallets. This is probably one of the safest platforms for exchanging cryptocurrency, where various means of protecting the service are regularly improved. However, it is more difficult to maintain anonymity here, since the exchange requires verification and disclosure of many personal data and photos of documents. Check out also the complete Bittrex review on CryptoTotem.
Depositing Funds Into Bittrex
Funding a wallet on the exchange is quite simple. First go to the "Wallets" page. A list of all cryptocurrencies available on Bittrex will be available here. First of all, select the needed currency in order to replenish your trade balance, then click the button highlighted by a green circle "Make a deposit" and select further all the necessary options by inserting the desired wallet address. To the left of the currency name there will be a "+" button. After clicking, a pop-up window should appear that is responsible for the replenishment.

The address must be generated in advance, preferably a completely new one for the safety of your funds, and then you need to make sure that this happened by seeing the confirmation of the crypto blockchain. Click "New address" in it and in the corresponding field you will see the address to which you need to transfer funds. Send coins to it – and a new Pending Deposit will appear in your profile. This means that the money is on its way and will be credited after passing the  confirmation.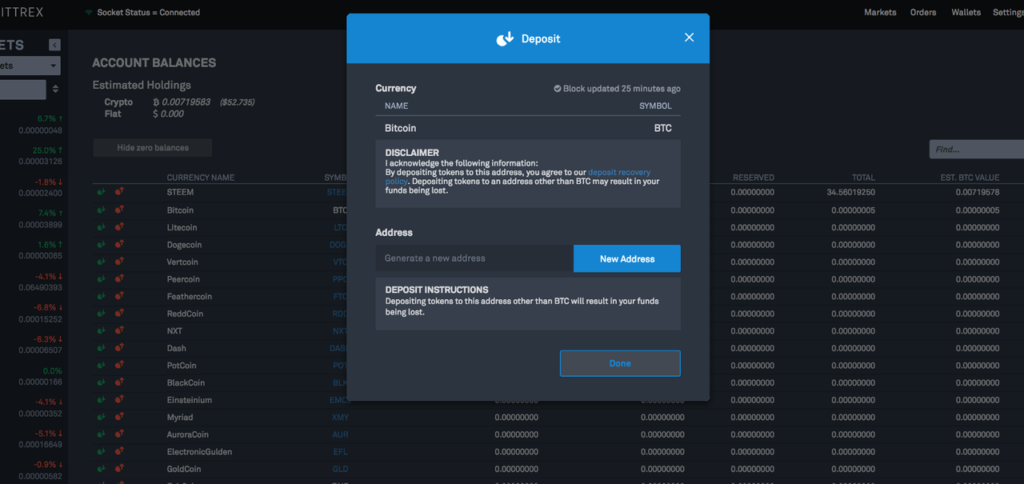 How to Deposit Bitcoin into Bittrex
If you figured out how to replenish your wallet, then you can now purchase currency. The process of buying cryptocurrency on this marketplace is no different from other exchanges. To get started, you need to fund your BTC account and find a trading pair with the required currency. In the "Buy" form, the desired number of coins and the value are entered. Further, the application is published and processed. If the order book contains an offer with such a price, then funds will be automatically credited to you. If not, then your order will be added to the order book.
Depositing USD and EUR to Bittrex
Since it beginning on Bittrex was no accept fiat currency for  exchange, however now you can replenish your account with US dollars. The Bittrex administration must first approve the bank account of its customer to access the fiat currency deposit.
However, you can use dollars in the trading process without additional verification. Onthe other hand to carry out the replenish or to withdraw your fiat currencies, you must provide a letter from your bank or an account statement indicating your documents personal information and bank details.
One client is allowed to have several bank accounts. Then you receive instructions by email of making deposits and withdrawals in fiat when the bank account is added.
Minimum Deposit
The minimum transaction value on the Bittrex crypto exchange is 100,000 Satoshi, that is, 0.00100000 BTC. It is also worth noticing that there are restrictions on the validity of orders and more than 28 days, after which the saved funds are cleared to the user's account.
How To Trade in Bittrex
The site offers trading in four markets (BTC, ETH, USD, USDT) with 316 trading pairs. The couple of "Markets" buttons in upward part of the screen. One of them allows to go to BTC trading place, the other one to USD trading. To USD pairs access will have only customers with advanced identification level. But trading does not take place directly with the fiat USD , but with the USDT token, which is backed by American national currency.

We go to Markets, everything is not located here as on most cryptocurrency exchanges. In the middle there is a list of trading pairs. Columns with exchange pairs USD, BTC, ETH and USDT follow one after another. It is necessary to select the trading pair you are interested in.
To do this, there is a Find field in the upper right corner of each list. Enter the name of the desired altcoin and, if supported, a separate line for this trading pair will appear. Click on it and go to the next Markets section, where it will be available:
course schedule;
order form;
list of open orders;
trading history.
Above, we see basic trading information for the last 24 hours and a chart. Bittrex charts are very well designed and have many settings and tools. The user can adjust the candle time, chart type, use various lines and indicators to conduct technical analysis of the course.
Below are the forms for buying and selling coins. Below them are the corresponding order books and a list of the latest deals on the market. The exchange interface looks modern and easy to use. It has the usual arrangement of elements and, in general, is not much different from other similar trading platforms.
The user receives all information about transactions in the form of pop-up messages. Thus, you will not miss a single event related to your applications, regardless of which page of the site you are on at that moment.
Trading Fees
The trading fee on the site is 0.25%. This rate is in line with the generally accepted among most cryptocurrency exchanges, although recently many of them are abandoning the fixed rate and switching to a dynamic system of generating fees.
How To Set Stop Loss On Bittrex
What if you see a reversal and would like to sell or buy the coin at the best price while minimizing losses? For this, there is a specific Stop Loss function. It should also be noted that Bittrex supports the use of the stop loss feature. It allows you to protect yourself from unnecessary losses and adjust the limits of the estimated profit.
Despite the fact that many novice traders do not know how to use stop loss, this is a very useful tool and experts recommend using it always, because the cryptocurrency market is unpredictable.
For example, you bought a coin and after analyzing the price movement, you assumed that it would go up. In order not to miss the moment of selling and not go into a drawdown, turning his money into a long-term freeze, a trader can set a Stop Loss. In fact, it sets the price, upon reaching which a sell order will be placed at a lower price.
Go to the Sell order window.
We choose how many coins will be in our stop (either part of your savings, or all coins). Once you have installed a request for all coins, you will no longer be able to trade them, because they will be reserved in the stop order.
In the ASK line, indicate the price of the coin at which the transaction will be carried out. Those. this is the price at which your coins will actually be sold under adverse circumstances.
In the TYPE line, click on the red Limit box and select Conditional. This means creating an order with conditions.
In the Sell when row, click on the red Condition box and select Less Then Or Equal To. Thus, you set the condition – Sell when the price is equal to or less than we specified. On the same line, we indicate the price, upon reaching which our order will be placed for sale. It can be equal to the price from the ASK line, or slightly higher. If you expect a fast dump, set the ASK price well below the order threshold. In this case, the order will be triggered at the highest price offered. You, in turn, are guaranteed to sell coins.
Click the SELL button to confirm the order creation.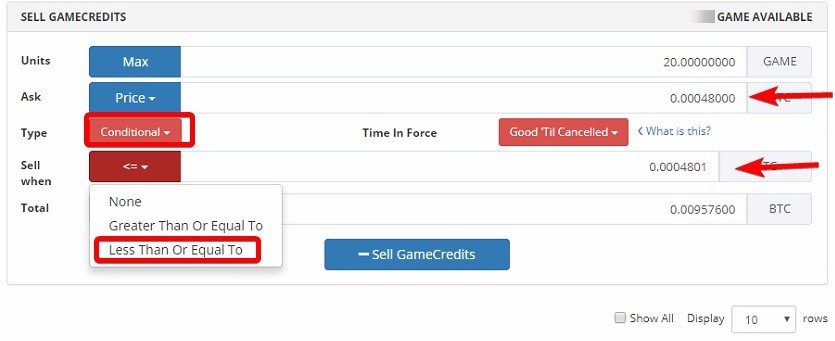 Your stop loss has been created and will be triggered in case of a strong decline in the cryptocurrency rate.
How To Withdraw Funds From Bittrex
In case you successfully passed the verification, you get the opportunity of money withdrawal. This process on Bittrex is the same as depositing. To do so, you need to go to "Wallets" section and choose the withdrawal currency. It prompts the user to enter the wallet and amount of withdrawing funds. The fee for withdrawing is shown in the same place. If you click "Confirm" – then a letter will be sent to the user's mail with a link to go to confirm the operation.

Withdrawal fees
Bittrex charge minimum withdrawal fees today, so they are quite adequate. Buy and sell fee is 0.25%. Below is a list of the most popular cryptocurrencies and fees for their withdrawal from the exchange no more than 0.00100000 BTC or – 0.00600000 ETH. Others crypto withdrawal fees also outstand low level.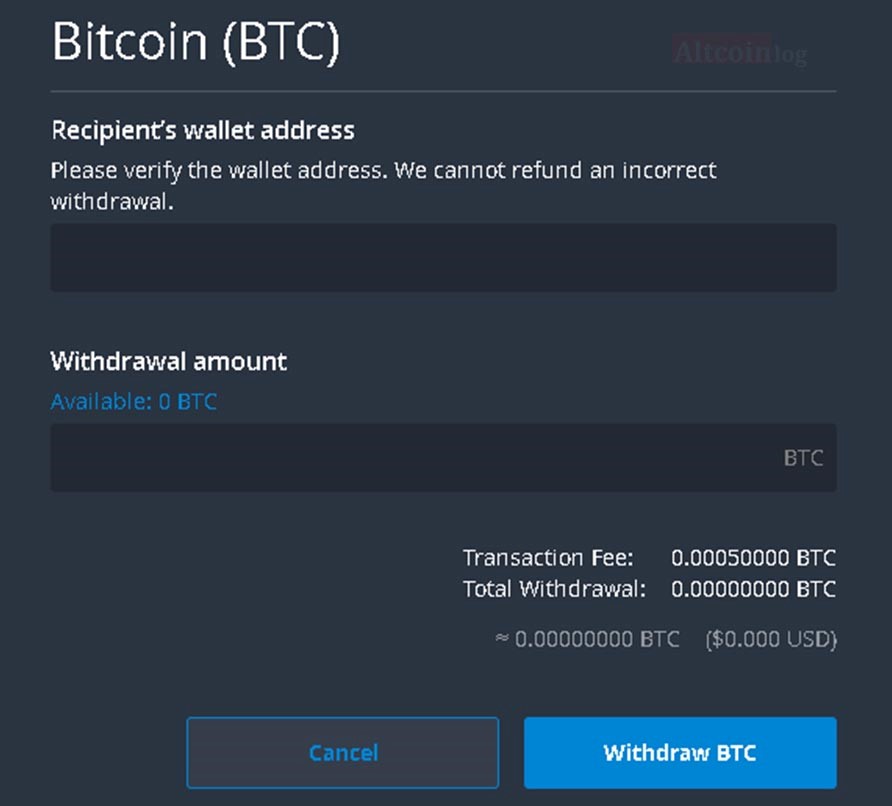 Bittrex Security
As for any major hacker attacks on Bittrex, the entire history of the platform, a few messages appeared on the nets, the authors of which claim that their accounts on the exchange were hacked. It is difficult to say what their share of fault in what happened, since criminals often use weaknesses of some password or with no authentication of two-factor model.
Bittrex Two-factor Authentication
After the verification is complete, you need to enable two-factor authentication. If this is not done, the daily limit for Bittrex withdrawal will be only 1 BTC, and after enabling 2 FA, it will be raised to 100 BTC. However, two-factor must be enabled in any case for account security reasons.
The order of 2FA activation is standard:
Install Google Authenticator on your mobile gadget.
Click scan barcode.
Add an account to the 2FA utility on an android device and enter the resulting combination of numbers in the Authentication Code column on the exchange website.
Click Enable 2FA, but be sure to save the secret key displayed under the QR code on the Bittrex website before doing so. If you don't have a mobile device, you can still enable 2FA on your PC using the Winauth or Authy program.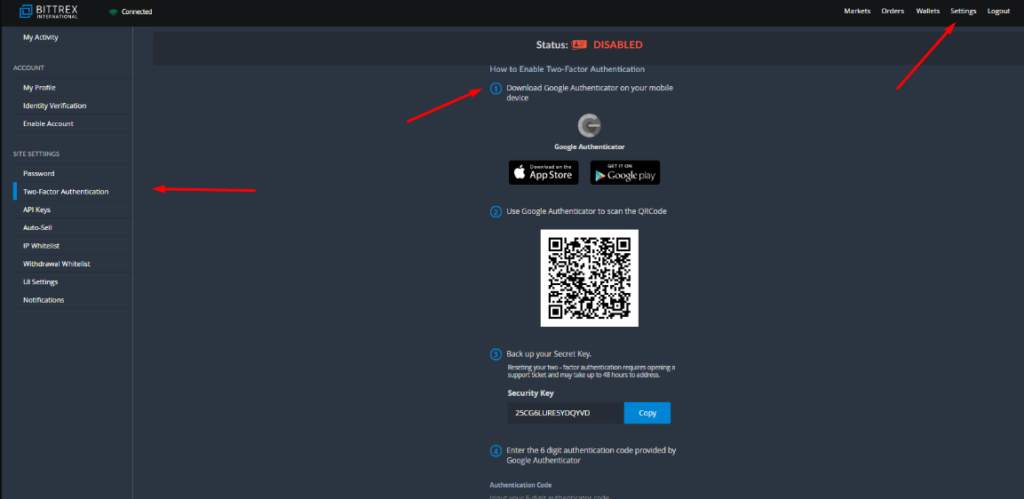 As soon as you enter the six-digit code and click "Enable 2FA", an email will be sent to you. Follow the link in the letter and enter the code that will currently be displayed in Google Authenticator on your mobile device.
Supported Countries and Cryptocurrencies
In total, Bittrex supports over two hundred different currencies and has virtually no geographic restrictions, working with clients from all over the world, but please note, that according to the rules of the client agreement, it is forbidden to use Bittrex services, residents of a country which is embargoed by the United States or the UN Security Council.
Creating a Bittrex Account
At the moment, the Bittrex team simply ceased to cope with document verification and technical support for users. To create an account, you will need knowledge of English. However, for those users who already have at least minimal experience of working on virtual platforms, the site of the Bittrex exchange is intuitive.
Click "Sing Up" and go to the registration page.
Enter your email address.
Create and confirm a password. Requires at least eight characters in different layouts.
Press the "Sing Up" button and see a message that an email has been sent to the specified email with a link to verify the email address.
Then open the letter in the mailbox and follow the link inside.
Now you need to agree to the terms of use of the service and the registration of an account on Bittrex is completed.
Verifying Bittrex Account
Bittrex offers both levels of verification basic and advanced. The first one allows you to withdraw up to three bitcoins per day, the second one – up to a hundred of BTC. Basic verification requires your name, date of birth and address. But it should be noted right away that this method is not available in all countries, since the entered data is difficult to verify. Advanced verification requires the provision of fresh selfies and photo documents.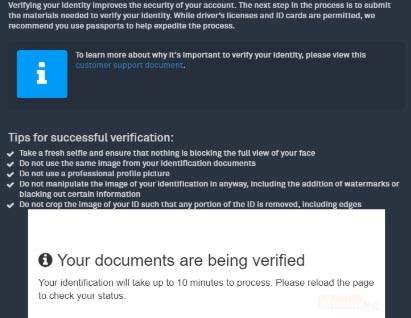 The list of required documents varies depending on the country. You can clarify this on the company's website. For example, for some countries a regular passport is suitable, but for some others only a biometric one. You can also provide a photo of the driver's license from both sides. After that, you will need to upload a selfie.
Basic and advanced verification are available on the respective pages in the "Settings" section. Verification will take 10 minutes in case of providing accurate information and matching photos, as this is an automated process.
If you sent photos that could not be processed automatically, the button for going through this procedure will disappear. In this case, you will need to contact the technical support of the exchange and request a second pass. You should create only one ticket, adequately describe the problem and patiently wait for a reaction, because it can take a lot of time.
Bittrex Pros and Cons: Is It Worth To Use This Platform
The tool for working with the Bittrex regarding and features is inferior to professional solutions used in traditional markets, for example MT4, however it is an order of magnitude superior to what you can see on most other cryptoexchanges. You can use many technical indicators. In general, Bittrex probably is the one of the convenient trading platforms apps that have come across on cryptocurrency exchanges.
For security reasons, funds cannot be withdrawn within 24 hours after changing the password, and if two-factor authorization is disabled, the withdrawal limit will be limited to 1 BTC per day.
Bittrex has a convenient modern interface and detailed information about trading. But unfortunately, the exchange is not available in many languages, but this did not prevent it from gaining great popularity among users from all over the world.